Hi everyone; my name is Lou Rodriguez and I'm an "Underbanked-ee".  I know, it sounds like I'm at an Alcoholics Anonymous group meeting like you see on T.V. but I assure you, I'm not.  Want to hear something really scary?  According to aa.org, as of January 1st, 2012, Alcoholics Anonymous reported their membership to be a little over 2 million; not nationally…world wide.
The "underbanked"? People like me? According to the non-profit Center for Financial Services Innovation, we number roughly 60 million people who do not have, or do not regularly use, traditional bank accounts.  Not world wide…nationally.  In fact, Experian estimates that number to be closer to 64 million Americans who fall into the category of "underbanked" and not surprisingly, they have created a new "credit report" to bring underserved people like me,  back into the so-called "lending fold".
Catherine New of the Huffington Post wrote a great piece about this new credit report and you can read both the article and my response to it by clicking here.   Now let me share my personal story of exactly how under-served the underbanked truly are!
Forced Into the Ranks
As many of you know, I am a Bankruptcy, foreclosure, short sale, tax liens, and overall credit and financial devistation survivor.  My last checking account I had was with Citi Bank back in 2010.  Funny thing happened to me though as a Citi Bank Customer; they ran a credit check on me and I received a letter from them in the mail saying they were closing my account and mailing me a check for the balance.   All without ever applying for a single thing 'credit-wise', from them.
Of course, having seen so many go threw this before me, I knew I needed to maintain this account so I picked up the phone and called my branch.  When I asked the girl who originally set the account up for me why this was happening, she told me it was Citi Banks policy and they could terminate the account as it said so right there in my multi-page agreement.
Incredulously I asked her,  "even though I have never bounced a check or had any problems maintaining the account whatsoever?"  She said yes, that it didn't matter.  Maybe not to her and to Citi Bank, but to me, it most certainly did.  I thought I knew what I was in store for.  I mean, I knew I was about to join the world of the "underbanked" meaning those off the financial grid in a big way, but in actuality; I had no idea what I was about truly about to go through.
Off the Financial Grid
I knew I had to find an "alternate" way to get checks cashed, bills paid, and attempt to somehow remain on the financial grid.  Now imagine for one second if just 10% of that 64 million underbanked population, 6.4 million people, had to pay $1 dollar every single month to cash a check, upload money on to a pre-paid card, or to do whatever was needed in order to function and live their lives.  That's almost $100 million dollars a year spent on financial services…just to function like the rest of the population.
Oh… wait a second; I've just been interrupted by Core Venture Capital as they are calling "horse shit" on my numbers.  Sorry guys.  According to Core Venture Capital, the real numbers the "underbanked" are spending…wait for it… is….$45 BILLION DOLLARS A YEAR!  That's Billion with a B!
To see how that $45 billion breaks down, I went to Bank Talk, a blog written by Adam Rust, the research director of Reinvestment Partners, a 501 (c) 3, based in Durham, North Carolina.  You can go to the site here and see the whole breakdown for yourself.  Mr. Rust breaks down the numbers into 2 sections; Credit and Services.  For this blog post, I'm going to concentrate on Services.
Now, according to our man Adam, Check cashing alone generates $2 billion dollars a year!  I don't know about you, but with numbers like that, what's the real incentive to truly bring the "underbanked" into the "lending fold" or back to traditional banking? In Catherine New's article, Mr Chi CHi Wu, an attorney with the National Consumer Law Center is quoted as saying "Putting you in the system is not necessarily a benefit if you're not going to get affordable credit."  I mean, Isn't that the point of bringing the "underbanked' back into the lending fold anyway?
Not Acceptable
As Amateur Consumers, we have to pick ourselves up off the ground and attack our credit and financial issues head on if you want to regain your upward mobility!  You can accelerate the process of credit recovery but it requires 2 things: knowledge and taking action!  It's my hope that through this blog and the Better Credit Blueprint Video Series, I can inspire and instruct you to take the same action I am.
Now let me share with you my personal story of exactly what the "underbanked" like me have to go through every single day just to live our lives:
This Can't be Happening
I recently closed my Single K account with Oppenheimer Funds.  Number one, it has done nothing but lose what little money it had in it. Number two, if it's going to keep losing money, I might as well put it to good use for me and my family! So I called Oppenheimer to close the account and they told me to fill out some forms, sign it, and fax it back.  So far – so good.  A week later when I got the check, as you can see where the red arrow is pointing at the highlighted wording below, it clearly states: This check may not be cashed at a check cashing agency or money service business.  Of course, my first reaction as a person in my situation was; WTF?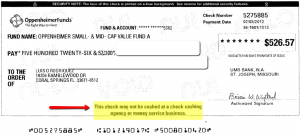 I have a Walmart Money Card which I got in order to have last years tax refund direct deposited so that I could have access to it.  Walmart Money Card provided the routing and checking account number used from GE Bank that allows funds to be electronically transferred for use in my pre-paid card.  I quickly got online and saw that Walmart would waive the "reload fee" if I deposited the entire check amount into my pre-paid Walmart Money Card.  Let me back up for a second and explain this "reload fee" but before I do, let me also tell you that the Walmart Card itself cost $3 dollars as well.
Now, in order to upload funds to a Walmart money card, you first need to purchase a Green Dot Money Pak Card which costs $4.95 cents.  This card must be purchased for the privilege of uploading my own money, for my own use.   After purchasing the Green Dot Money Pak Card, you can use it for reloading a pre-paid card, making payments, or to add money into a PayPal account which I frequently do.  This "reload" fee costs $4.95, every time you reload.  Again, Walmart waives their $3.00 "reload fee" if you upload the check to their Walmart money card so I happily drove to Walmart to do so.
Things Getting Worse
Strange thing happened when I got there;  the cashier at the customer service desk told me her system was denying the check.  When I asked why, she had no answer.  All she could do, or was authorized to do, was to print out this receipt.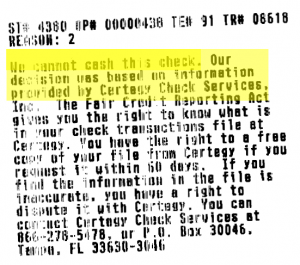 As you can see in the highlighted section, they could not cash the check because of information provided by Certegy Check Services.  If you don't know who they are and what your rights are under the FCRA if adverse action is taken against you by information they provide, you need to watch my Better Credit Blueprint video series to become a more informed consumer.
So I called the toll-free number they provided in this barely legible 3 inch by 3 inch receipt.  No matter what you do, you will never get a human being on the phone as you will hear in the call by clicking on the mp3 link.  Below is the transcript of that call as well:
Call transcript:
Certegy: To continue in English, press 1, para continuar en Español, prima número dos
Ringing sound
Certegy:  Thank you for calling Certegy, Sorry, I'm not sure what you entered (I didn't say or enter anything)
Certegy: Say yes or press 1 if you tried to cash the check today, otherwise (I select 1).  OK, what was the exact amount of the transaction in dollars and cents?  For example, you could say twenty five dollars and thirty seven cents…..
Me: (Speaking) Five hundred – twenty six dollars – and fifty seven cents.
Certegy: You said…Five hundred – twenty six dollars – and thirty seven cents. Is that correct?
Me: No
Certegy: My mistake.  Please say or key in the exact amount of the transaction….Say help
Me: (Keying in the numbers)  5-2-6-5-7
Certegy: You said..Five hundred – twenty six dollars- and fifty seven cents.  Is that correct?
Me: Yes
Certegy: Got it……(pause)  Thank you for your patience while your check transaction is located.   This decline was not a result of any negative check  writing information…but as a preventative measure (yeah – preventing me from gaining access to my cash!).  We were unable to authorize your check because it did not meet our check acceptance criteria based on our risk models.   Certegy carefully analyzes  patterns of check writing activity designed to protect consumers as well as our merchants from fraud, identity theft, and unauthorized usage.  These situations are rare and should not affect the authorization of the check in the future.  Although a declined check is unfortunate,  our customer care representative are not able to authorize checks or overturn this decision.  They do not have any more information about your transaction than what you have just heard in this automated system. (Pause – New Voice) This  is all the information about your transaction available to both our automated system and our agents.  If you're done, please feel free to hang up.  Was that all the……end of call.
Can this Really Be Happening?
So not only am I not allowed by Oppenheimer Funds to cash a check made out to me while having all the necessary  documentation you would ever need to cash a check at a check cashing business or service, I can't even cash the damn thing at Walmart!
So I decided to go back to the source of the check, Oppenheimer Funds, and find out what they could do to help me out. The call took a little over 8 minutes so I invite you to click on the mp3 link below to listen to the call in its entirety.   For this post, let me give you the Reader's Digest Version;  First, let me say that the agent who took my call was very nice and amicable which in my frustrated state of mind, helped to keep me calm.  Additionally, I didn't call irate or mad to begin with anyway as you'll hear in the call.
As a matter of fact, it's important to note that any call you make to handle an issue or situation dealing with credit or finances should always be done in a professional manner and with calm.  The old saying, "you catch more with flies with honey than vinegar" applies with this situation as well.
Basically, the 'no cashing at a check cashing store or business' is their policy.  Secondly, after I clearly explained my situation, he did try to provide me with some solutions.  The first one was to find someone with a checking account and get them to cash or deposit the check as a "third party" check.  Not only do most banks frown upon this practice, but now if you are not inclined to let everyone know your business; you're now letting everyone know your business!
When I explained that I had a Walmart Money Card that uses GE Bank and provides me with a routing and checking account number for direct deposit, he informed me they would need something from Walmart Money Card or GE Bank stating I had an account there.  Without calling Walmart, I already knew this would be almost impossible, but I gave it the old college try anyway.
Walmart to the Rescue? NOT
I called Walmart's Money Card customer service number.  Again, you can listen to the call in its entirety by clicking on the mp3 below.  Here's the Readers Digest version again.  When you listen to the automated system, it clearly states that you can direct deposit pay checks and government benefit checks, which the Oppenheimer chech was not.  When I was routed to an agent , she told me the same.  After discussing it further, she told me they could not send out anything on letter head but they could send me a paper statement that I could then send to Oppenheimer.  This would take 7 to 10 business days.
Officially; the tail is now wagging the dog and you should start to see clearly what the "underbanked" like me, have to go through in order to cash a legitimate check, while possessing proper identification, in order to gain access to money that's mine to begin with!  Remember, I'm going through this not because I'm a serial check bouncer or because of check writing history as the Certegy automated system clearly stated, but because of my credit and the fact that my check did not meet Certegy's check acceptance criteria based on their risk models – whatever those may be!
How I Got Back on the Financial Grid
My story doesn't end there though.  I've still have to cash that check!  Knowing the banking industry like I do and having past good experiences with Credit Unions, I went online and applied to a new Space Coast Credit Union that had opened up nearby.  Below is the response I received via email several hours later: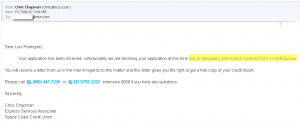 It stated; we are declining your application at this time due to derogatory information received from a credit bureau.  You will receive a letter from us in the mail in regards to this matter and this letter gives you the right to get a free copy of your credit report.
If you're feeling frustrated by seeing exactly what I had to go through to cash a simple legitimate check, imagine how many of the approximately 64 million Americans that are "underbanked' like me, might be going through this exact same thing – or worse!   As a father, I can't imagine this happening to someone who needs access to their money ASAP in order to avoid a utility from being disconnected or to put food on the table for their family.
From the email, I have no idea what report they utilized.  I'm sure the letter I receive will say who provided the report but I assumed it was a consumer report provided by ChexSystems, so I went onto their website.   After filling out the information requested, which I can only surmise their system immediately reconciles and checks to see if, in fact, a ChexSystems report was pulled on me, I clicked "submit" to continue with the process.  As you can see below, this page let me know that my request was submitted successfully and that my consumer report will be mailed to me within 5 business days.  I was right!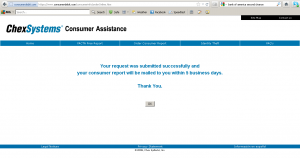 But, what about that damn check you might be asking yourself?  Well,  I'm an optimist by nature.  I believe that when there is chaos all about you, cooler heads will always prevail.  If you can remain calm and analyze your situation, more times than not, it will lead you to a better outcome.
Time to Change My Circumstances
As is the norm for me, I began to research banks online until I found one that could help me out of this situation without having to jump through any more hoops.  Through an article you can view here at MyBankTracker.com, I discovered that Birmingham-Alabama based Regions Bank does not currently pull ChexSystems Reports when consumers apply for a checking or a savings account. (cue the angelic church music and the dark clouds lifting)
I immediately got on the phone with Regions Bank toll free number and started the application process for opening a checking account.  I don't need to tell you that I did so with all fingers and toes crossed as my significant other stood behind me rosarie beads in hand. About 15 minutes later, the account was opened but the agent informed me it would not be active until I went into the local branch, signed a signature card, and made my deposit.
When I went into the local branch on a Saturday morning, an hour before they close, I was greeted by a wonderful woman who identified herself as a Branch Team Leader.  She was the only one working that weekend.  I gave her my information, handed her my I.D., and told her I had already begun the process of opening a checking account over the phone.  Truth be told;  I was still waiting for her to start laughing at me once she checked her computer screen and then tell me to   get the hell out!
Such is the journey and plight I have gone through in the last several years.   It's been one of humiliation, but then finally, acceptance of my situation.  Not acceptance as in; this is now how my life will be moving forward, but acceptance as in; how long am I going to keep accepting my circumstances?  I have to change this!
Where once I had banks and branch managers fighting for my personal and business accounts that once upon a time averaged six digits, now I was just hoping someone would give me a second chance to rejoin society!  Regions Bank gave me that chance.  I am both grateful and even a little emotional as I type these words.  But I can't help feel a little defiant as well in that; it doesn't have to be, and shouldn't be, this way!  But as I said in one of my earlier posts, it is what it is…but will become what you make of it.
Anyone recovering from credit and financial hell needs to understand that you have to get to this place and mindset first, before you can truly move forward with your life!  But when you do, that's the time to re-take control of your credit and financial future and begin the process of credit and financial recovery!  It can be done.  I'm doing it as I blog and its why I created the Better Credit Blueprint video series.  To inspire and instruct you in the hopes that you will take the same action I am taking!  Don't just accept your circumstances.  Get educated, take action, and do something about it!  Below is a copy of my customer receipt for the deposit I made on Saturday July 7th, 2012.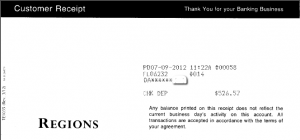 Do As You Say
Because the deposit was made on a Saturday, any deposits made on that day, as the bank rep pointed out, would count as a Monday July 9th, 2012 deposit as you see marked on the Customer Receipt.  She informed me that it would not show available in my account until Tuesday July 10th, 2012. No hold and no hoops jumping!
When Tuesday finally rolled around, I kept waiting for something bad to happen where I couldn't access my money, the account would be closed, and they too would mail me a refund check just like Citi Bank had.  Instead, something else happened;  exactly what the Regions Bank representative said would happen, happened; much to my delight and joy!
Back on the Financial Grid
As you can see from the online screenshot below, for me – let Tuesday July 10th, 2012 go down as the day Regions Bank truly brought me back, not into the "lending fold", but back onto the financial grid by giving me access to the most basic of financial services of major importance for all consumers;  a checking account!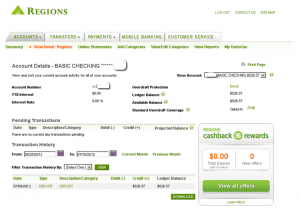 Note:  Sign up to receive future blog posts and email updates to make sure you don't miss my upcoming videos that will become part of the Better Credit Blueprint series where I'll review the information contained in my ChexSystems Report and show you live what can be done about it!
[ois skin="Untitled Skin"]
Do you have a story to share about being "underbanked" as well?  Please share your thoughts or comments so that others may see they are not alone!