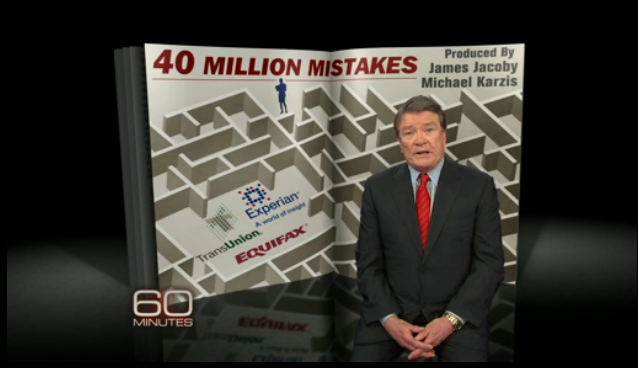 Just watched an excellent piece on 60 Minutes about the big 3 credit bureaus – Equifax, Experian, and TransUnion – titled; 40 Million Mistakes: Is your credit report accurate?  Any time I see a reputable and award winning newsmagazine like 60 Minutes taking this subject on, I have to applaud them.
Yet, I'm always left thinking the same things at the end; why didn't they take this further; why didn't they give the average amateur consumer watching,  some actionable intelligence they could actually use when disputing credit errors?
Why Didn't 60 Minutes Call in the Big Guns?
As a person who is pretty well versed on the subject, I would have liked to have heard from 2 experts on the credit bureaus; John Ulzheimer and Evan Hendricks.  Evan Hendricks wrote the book on credit scores and credit reports and is frequently sitting on the opposite side of the table when the credit bureaus are being sued by a consumer to correct errors on their credit reports.
John is equally well versed on all things credit with one caveat; he's an industry insider having worked for both Equifax Credit Information Services and The Fair Isaac Corporation (inventors of the FICO® credit scoring system).  In fact, he brags on his website that he is proud to call many of the largest banks, collection agencies, debt buyers and insurance companies his clients and therein lays the difference between the two; John is a credit expert with ties to the industry and Evan is a consumer advocate.
I would be curious to find out if either was asked to appear in this segment as their input would have greatly enhanced the segment for 60 minutes!
60 Minutes OT Misses The Mark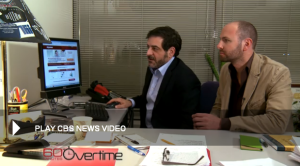 I give 60 minutes mad props for taking on this issue but their Over-Time segment could have been so much better.  Again, instead of hearing from the producers, why didn't we hear from Evan Hendricks?  The one thing to know about your credit report, according to these producers, was to check your credit at annualcreditreport.com;  Really?  This is the one thing we should know as amateur consumers?
Had they checked with this blog or viewed my free Better Credit Blueprint Video Lecture Series, they would have known that by pulling a report from annualcreditreport.com, you are getting a "credit disclosure", not a "subscriber version" credit report.  Do you know the difference?  They would have also known that by disputing errors from a report obtained from annualcreditreport.com, the bureaus would have 45 days in which to respond to your dispute instead of 30.  Did you know this fact?
The Best Guardian of Your Economic Reputation is YOU
At the end of the day, this truly is the bottom line! But the only way to protect yourself is to become a better, more informed consumer.  Especially if you are participating in this increasingly dependent on credit society we live in today! (which I'm not)
Here's a Free way you can accomplish this; sign up for my video lecture series available on the Udemy Platform and if you can honestly tell me you're not a more informed consumer after watching these free videos, then I'll give you back every single penny  you paid for it!  Oh, wait a minute; IT"S FREE :)  So the only thing that would stop you from becoming a more informed consumer is YOU!
Please leave a comment below as I would love to hear what you thought about the 60 minutes segment!  If you liked this post, please share it with your friends as well.