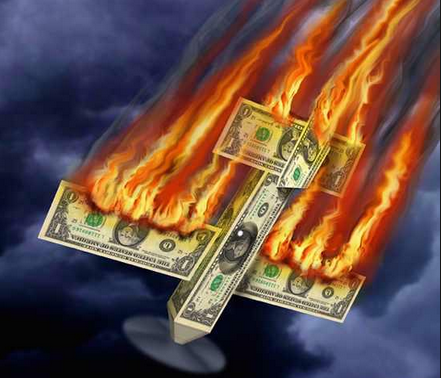 Let's start with some basic history about the financial literacy movement;  in the United States, the movement really started to pick up steam in 1995.  That's when former Chairman and CEO of Ford Motor Credit, William E. Odom, was credited with the concept that led to the formation of the Jump$tart Coalition.  And no; that's not a typo in their name.  The S they use is really the key for money $!
H. Randy Lively, former President and CEO of the American Financial Services Association, then organized the first meeting of what was then called the "Partnership in Personal Finance and Consumer Credit Consortium".   By 1997, the Jump$tart Coalition was officially established as a non-profit organization with Mr. Lively as its first president. JumpStart's (sorry, I can't keep typing the money key) mission statement says they strive to prepare youth for life-long successful financial decision-making.
Two Decades Later

In honor of Financial Literacy Month, let's see how well the "consortium" of bankers, creditors, governmental agencies, and non-profit educators have done in preparing our youth for life-long successful financial decision making over the almost 2 decades they have been leading the charge of the so called "financial literacy movement"…
In 2003, there were a record number of 5.5 personal bankruptcy filings for every 1,000 people living in the U.S. The previous record of almost 5.0 filings for every 1,000 people was reached in 1998 but it wouldn't be fair to say that the "consortium" could have worked their magic that quickly.  Let's check out the numbers for 2012:  Total number of personal bankruptcies filed were 1,271,140 or 3.86 bankruptcy filings for every 1,000 people living in the U.S. according to the American Bankruptcy Institute.
How Should We Measure Success
Ironically enough, success can and should be measured by failure!  As in by how many Americans, despite their level of education, income, and perceived level of knowledge with financial literacy, continue to "crash and burn" financially – year after year.  Even after almost 2 decades of the mountain top screamers yelling "teach more financial literacy"!
You can argue if you want that the numbers reflect the economic reality of our times.   But I would argue that economic research has consistently found that personal bankruptcies are a function of income growth, or lack thereof,  and debt composition; particularly credit card debt, out-of-pocket medical expenditures and debt service.
Why Financial Literacy Continues to Fail
I suppose I could sit here and hurl the proverbial "Molotov Cocktail" and tell you that as long as banks and creditors are part of teaching and financing the financial literacy movement, there is a natural conflict of interest between their supposed mission and what the so called "desired outcome" of teaching financial literacy should be; a financially literate society. Yet, after almost two decades of  leading this movement, we remain a financially illiterate society!
What they are teaching is "Financial Functionality" and yes, it is still part of the system that you must participate in every day and as such, we should know how to navigate it successfully.  But therein lays the argument for why it continues to fail: financial functionality is only teaching mechanics!
Wrong People Leading the Charge

As long as the banks and creditors are leading the charge in the financial literacy movement, they will not push for the one thing that could truly free our kids from the chains of debt that many of us have been enslaved to and that would free our children to pursue their dreams; Behavior and the cognitive science of decision making!
And for this one, I don't need any experts or financial guru's to corroborate what I'm saying.  All I need to do is put myself up for your inspection;  college educated with 20 plus years working in credit and financing, made lots of money and by any industry or financial literacy benchmark, I was extremely financially literate.  Yet the pilot in the picture above involved in the  financial crash and burn?  That was me!  So why do we continue to "crash and burn" as a society two decades into this financial literacy movement?
Financial Life Building Skills
Knowing how to balance a checkbook, read a credit card statement, knowing the difference between compound and simple interest, the difference between a negative amortization loan and a fixed mortgage or learning how every single financial product on the planet works doesn't begin to teach you how to fight the Psychology of Consumerism! This is behavioral my friends – not mechanics!
Knowing how to "pause and reflect" when addressing the question of whether you actually have a problem that needs to be solved with the spending of money is an information processing model and it too is behavioral!
Knowing how to live frugally is an art and behavioral as well because it is tied to the Psychology of Consumerism, Critical Decision Making Skills, and learning how to deal with external influences.  Learning and mastering these behavioral financial life building skills should be a part of teaching any financial literacy curriculum in schools if it is to be comprehensive and life changing! And it should be taught as soon as any child can say "I want"!
What Do You Have To Say
If you want to jump in on the conversation, leave me a comment below. If you like the article and would like to help me get the conversation going, please share it with your circle.  I would love to hear your thoughts…. whether you agree or not!