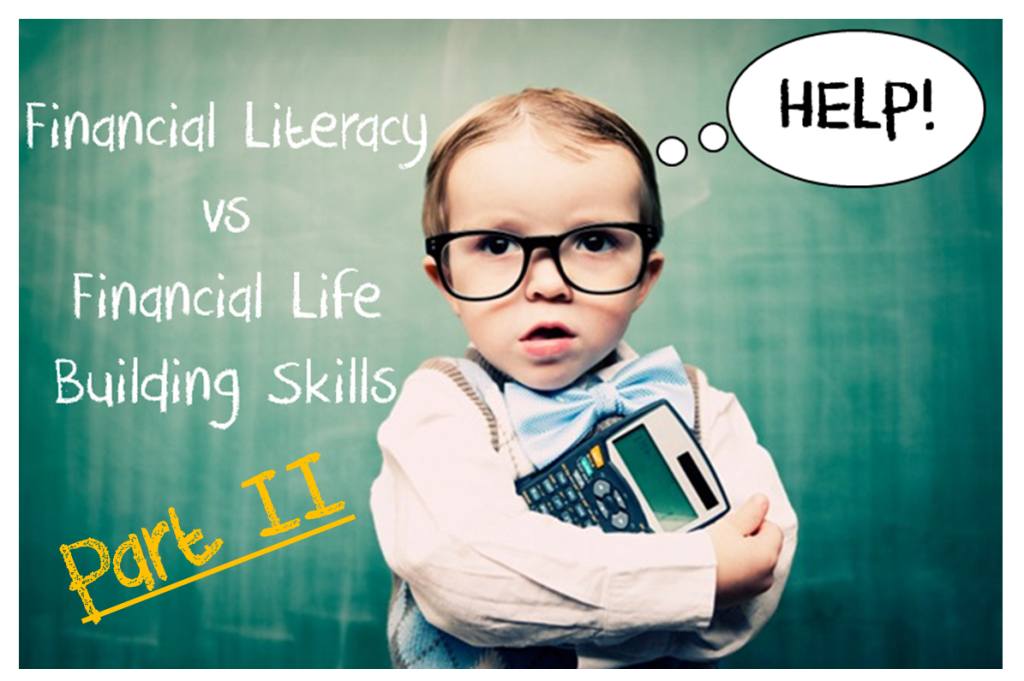 In a recent article for Southern California Public Radio online titled States to consider financial literacy requirements for K-12 students, Education Reporter Vanessa Romo wrote about how schools have long tried to impart money management skills to students through a variety of programs such as elective classes in partnership with banks and nonprofit groups, after-school programs that teach economic basics and "life-skills" to round out a student's academic education.
She wrote that The Council for Economic Education, a nonprofit promoting financial education, recently developed new standards at the request of and with input from educators at all levels. Supposedly they establish benchmarks for what kids should know about money by the end of 4th, 8th and 12th grade and are broken into six personal finance categories:
Earning income: This includes collecting rent, stock dividends and interest on bonds. It also includes a discussion of the labor market and how education may lead to higher wages.
Buying goods and services: This includes planning, comparing, budgeting and making choices.
Saving: This includes near- and long-term goals and how time, interest rates and inflation affect savings.
Using credit: This includes borrowing options and how credit history helps determine availability of credit and the rate of interest that you pay.
Investing: This includes risk, rates of return and diversification.
Protecting and insuring: This includes potential loss of health, assets, income and identity, and how behavior affects the cost of insurance.
In another article titled Coming Soon: New Standards for Teaching Kids about Money, Dan Kadlec – Business and Money writer for Time.com quoted Nan Morrison, CEO of the council as saying "Financial literacy should be treated as a discipline, not a set of rules to follow" and "A systematic approach to decision making acquired in economics permeates virtually all aspects of life."
What's The Purpose?
While I agree that financial literacy should be treated as a discipline and that a systematic approach to decision making acquired in economics permeates virtually all aspects of life (well I almost I agree), I disagree with the benchmarks and what they are teaching.  Everything on that list, with maybe the exception of buying goods and services, falls under a category I call Financial Functionality; Allow me to explain….
When I look at financial literacy today as presented by many non-profits, banks, and educators, I simply ask myself this question; what's the purpose?  When I look at the list of 6 benchmarks, my answer is also simple; the purpose is to teach you to participate well.   And If functionality is defined as the quality of being suited to serve a purpose well then these benchmarks will train you to serve the purpose of consumerism and how to participate in our ever increasingly dependent on credit economy!
Just Financial Literacy Isn't the Answer
According to Kadlec's article, the section on saving, for example, the standards state that by the end of 4th grade a student should know that "income is saved, spent on goods and services, or used to pay taxes," and that students can use this knowledge to "explain the differences between saving and spending and give examples of each."
And so I ask; what's the purpose?  The article states that by the end of high school they should be able to "identify instances in their lives where they decided to buy something immediately and then wish they had instead saved the money for future purposes."  So they should learn to recognize buyer's remorse? What's the purpose?
Why Financial Literacy Fails
In an excellent post written by J.D. Roth of the Get Rich Slowly blog titled Why Financial Literacy Fails, J.D. writes, "When I was in high school, every senior was required to take a class in personal finance. We learned how to write checks, how to prepare a budget, and the history of the Federal Reserve. After learning some basic financial literacy, you might think my classmates and I were better prepared to make and save money. You'd be wrong. Now, 25 years later, we're no better with money than those who were never given this sort of instruction."
He goes on to write "Instead of teaching Americans about credit cards and rates of return (included in the benchmarks), we need to be teaching them about behavioral finance. We need to be showing them how to break free from the ubiquitous marketing messages. We need to be showing them how to set (and achieve) personal goals, especially financial goals."  To which I say "Amen Brother!"
Financial Life Building Skills The Answer

It is said that the number one cause of divorce is financial problems.  There can be little doubt that few things can equal the levels of stress brought about losing a job, getting a large pay cut, not having enough money to pay the bills, and perhaps worst of all, losing a home in foreclosure.  I know because they have all happened to me!
Now I'm not an economist, nor have I been on any non-profit boards advocating for financial literacy.  But much like J.D., I have traveled a personal journey through credit and financial hell; all as a financially literate individual as graded by the Benchmarks being set by The Council for Economic Education.  What I was missing and what no one taught me were financial life building skills!
3 Pillars of Financial Life Building Skills
Here's what I was never taught, is not currently being incorporated into learning what I call comprehensive financial literacy, and was cemented in my journey through financial devastation.
Pillar Number One: The Psychology of Consumerism: What's the purpose?  Every day you're being marketed to and the psychology of consumerism, if you don't know how to combat it, will provide you with the necessary motivation and drive to make you think you have a problem that can only be solved by making a purchase or by the spending of money!  Not learning what's at work will leave you an Amateur Consumer.
Pillar Number Two: Critical Decision Making Skills: What's the purpose?  Here's the undeniable truth; making a good decision and avoiding a bad one is not a chance act. It's a skill— and one that can be learned, honed, and perfected. When you understand the components of a smart decision, you can examine mistakes you might have made in the past and sidestep potential mistakes in the future. You can then make sounder choices that produce better results for you and now you become an Empowered Consumer.
Pillar Number Three: The Art of Frugality: What's the purpose? Frugality is the quality of being frugal, sparing, thrifty, prudent or economical in the use of consumable resources such as food, time or money, and avoiding waste, lavishness or extravagance.  In behavioral science, frugality has been defined as the tendency to acquire goods and services in a restrained manner, and resourceful use of already owned economic goods and services, to achieve a longer term goal and this is where the rubber meets the road.  By mastering all 3 pillars of financial life building skills, in conjunction with learning financial functionality, you will become a liberated consumer!
The Liberated Consumer
As a liberated consumer, you practice need recognition as your modus operandi!  No decision, whether low-level or high level, is made without it and it becomes second nature to you!  As a liberated consumer you ask yourself the necessary questions in order to use critical decision making skills to decide on any purchase or spending of any money – period!  You reconcile all choices with consensus, with a budget, and your core values – dictated by the direction you want your life to go!
This is how our children should be graduating high school; as liberated consumers! If we prepare our children properly as they graduate to the secondary stage of their lives, whatever that may entail, then truly they will be free to pursue their dreams unencumbered!  That should be the only purpose of teaching comprehensive financial literacy!
If you agree, then get some by sharing this post with your friends!  If you don't agree, then let me have some by leaving a comment below!  Either way, this is an important conversation we need to have as parents and society in general!