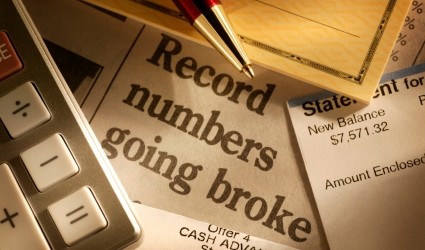 Why do I keep reading, especially during financial literacy month,  statements like this from respected journalist and personal finance experts all across the blogosphere; the next generation is growing up as financially inept as the last.
Does anyone really believe that every person over the last 2 decades of this "so called" financial literacy movement that have "crashed and burned" like I did were financially inept? Do you really think no Doctors or Lawyers, or Educators or PhD's have filed for bankruptcy or had their homes foreclosed on over the last 2 decades?  Of course they have! And many were financially literate by any benchmark set by the financial literacy movement – and I know this first-hand!  Yet it still didn't prevent them from going broke!
Let's Start With the Name
The term "financial literacy' in itself sucks and suggests that you become literate/educated in finances. So let me see if I understand this correctly; people financially "crash and burn" only because they don't have or show any skill with finances?  I don't think so!
They fail because what the financial literacy movement has been teaching over the last two decades is mechanics; the basics of economics and finances or what I call "financial functionality".
Here's What's Missing
The argument is far deeper than anyone is writing about in the blogosphere, but a good start would be to give the behavioral component as much importance as the mechanical when it comes to teaching truly comprehensive financial life building skills – not financial literacy.
We should be teaching our kids to bullet-proof their mind from the psychology of consumerism from the moment they can say "I want".
We should be teaching them that everything they do in life, not just finances, comes down to learning critical decision making skills; that by asking questions and learning to "pause and reflect", decisions to consume are made deliberately and with purpose!
We should be teaching them conscious frugality so the only luxury they are chasing when they graduate school is "choice"!
What do you have to say?  Speak up and be heard by leaving a comment below!