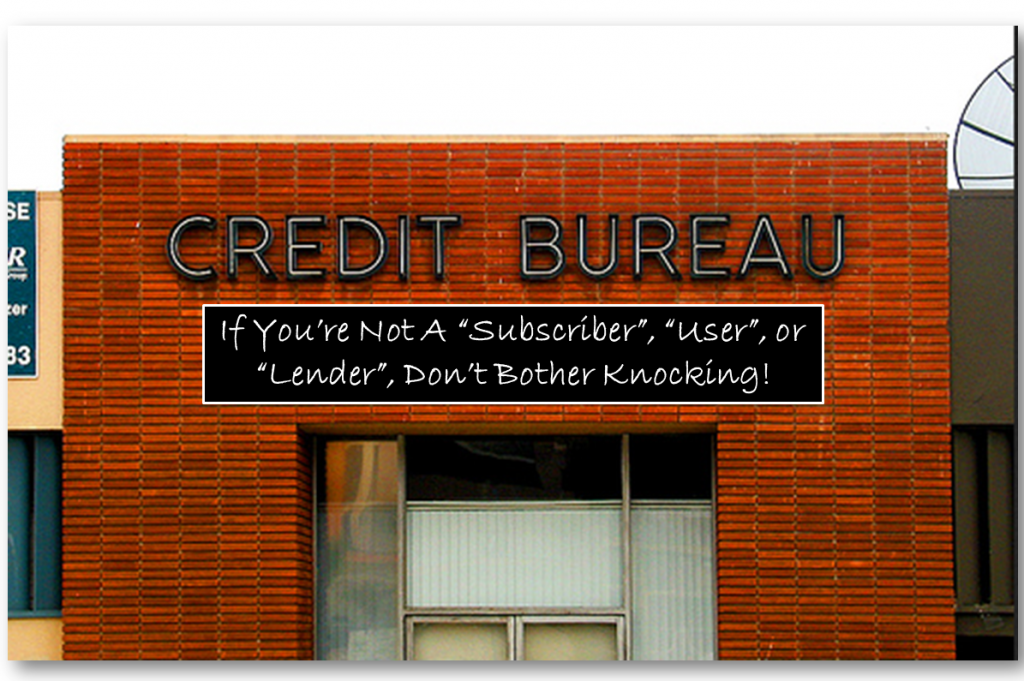 Experian, through a recent press release, just announced the launch of TrueTraceSM.  In the release they state the product is the latest addition to Experian's debt collection product suite! But not before boasting they are the leading global information services company which provides best-in-class skip-tracing capabilities across industries. 
And if you didn't already know, Experian is one third of the band Rape, Pillage, and Plunder! OK, you got me; they aren't really part of a band :).  Experian is actually one of the Big 3 Credit Bureaus with the other two being Equifax and TransUnion.  If you don't know this fact, the 80's called and they don't want you back!
Role of the Credit Bureau
Look folks, there's no need to research this and look up definitions.  Why don't we just see what Experian themselves say their role is?  According to their own website, their role is to:
Promote and facilitate a data sharing culture amongst the subscribers
Provide the users with accurate information and solutions to support objective application processing models
Help the lenders reduce the risk of granting loans likely to default
Support fraud prevention procedures
Enable loans to be granted without "security"
Protect consumer against over-indebtedness by allowing for responsible lending by the grantors
Deciphering the Code Talk
Let's make this simple, shall we?  The terms "subscribers", "users", and "lenders" don't apply to you and me!  You may be asking yourself "But what about the consumer part; that's us, right?"  Yeah; that one is us but they do not elaborate about anything concerning "consumer" or "consumer rights" other than stating Protect consumer against over-indebtedness by allowing for responsible lending by the grantors as one of their roles.
So Experian protects us, the amateur consumers, against getting in over our heads by telling their subscribers," Hey, don't extend that guy anymore credit because he can't afford it?  Really?  I must be missing something here.  One of the things credit bureaus do not list on our credit report is income.  So one; how do they know we are over extended other than knowing what our debt to credit ratio is? And two; if they are actually doing this, then they are failing miserably!
What, with millions going bankrupt every year and credit counseling and debt settlement companies making millions every year as well!
Time To Call "Horse Shit" Again   
If you recall, in my post "Who Can You Trust When Taking Credit and Financial Advice", I had to call horseshit a few times and here are 2 reasons why I'm calling horseshit on this one too:
A credit bureau does not decide whether you should be extended credit. It collects, stores, and reports the relevant identifying and credit information of credit-active Americans. Using this information, credit grantors alone decide what standards you must meet to be granted credit.  So how in the hell do they Protect consumers against over-indebtedness?
A credit bureau does not know the specific reasons why you are given or denied credit. The credit bureau does not track the decision a credit grantor makes after ordering a credit report; favorable or not. Need I ask the question again?
Say it with me people; HORSESHIT!
Libraries or Debt Collectors?
Let's look at this "role" question again, shall we?  Consumer credit bureaus supposedly serve as control storehouses — or libraries — of credit repayment information. They collect the credit information from credit grantors such as banks, credit unions, finance companies, and retailers.  These credit grantors then access this combined information from the bureaus to help them make lending decisions.
But now they also market Debt Collection and skip-tracing products too?  Oh, it gets better! In the press release they state TrueTraceSM allows clients (not you and I) to designate accounts that require special handling (bankruptcy, deceased, litigious consumer scrubbing and more) and reduce regulatory risk.
Is this how they Protect consumers against over-indebtedness and getting in over their heads?  No my friends; this is how they make money!  In case you didn't know, they are not a government entity nor a non-profit.  They are here to generate revenue and they do it well – consumers be damned!
Say it with me people; HORSESHIT!   What's your opinion of the credit bureaus?  Are you OK with them working all the angles in the name of profit? Do you think this is a conflict of interest? Please lend your voice to the conversation by leaving a comment.