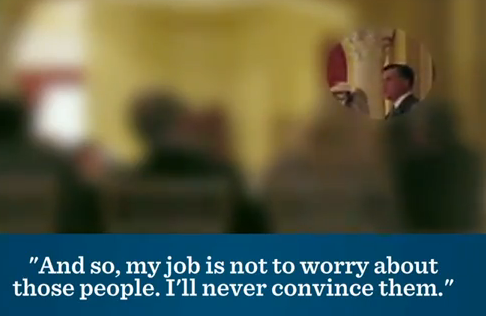 Let me begin this post by giving you a little context in case you've been living under a rock over the last month.  In a private high dollar fundraiser event held just down the road from me here in sunny South Florida (no, I wasn't invited but I can almost see Boca Raton outside my window), Mitt Romney, caught on hidden video said "There are 47% of the people who will vote for the president no matter what.  Alright, there are 47% who are with him, who are dependent upon government, who believe that they are victims; who believe government has a responsibility to care for them, who believe that they are entitled to health care, to food, to housing, to you-name-it! That that's an entitlement, and the government should give it to them."
I don't know how you felt when you first heard, watched, or read those statements; but me?  Incredulous is the word that comes to mind!  If incredulous is defined as being skeptical or disbelieving – then I was both skeptical as in "does he really believe what he just said" and disbelieving as in "did he just say that about half the population?"
How Did He Arrive At That Number?

Let's go ahead and review the Governors math, shall we?  First, according to the United States Census Bureau's population clock, as of October 7, 2012, the U.S. population is 314,532,884 million.  Now I'm not Nate Silver performing Political Calculus here or anything, but 47% of 314,532,884 is 147,830,455 million people voting for Obama because they are victims and who are dependent on government; right Mr. Romney?  (And no, there isn't an empty chair next to me as I type this blog post).  Let's look at the numbers of that "entitlement" crowd.
According to the Social Security Administrations website, 56 million Americans will receive some form of Social Security Benefits in 2012.  Now Before you blow a gasket, I know; Social Security is called an "entitlement". But is it?
Social Security Is an Entitlement
The mistake many of you make when you hear the word entitlement is to think like Mr. Romney does which is to think that those receiving social security benefits believe government has a responsibility to care for them and that's just nonsense.  Here's why; last time I checked, you have to pay into the system and the program is funded by workers' payroll taxes so if the word entitlement is defined as "having a right to something", then sufficed to say, you have a right to collect those benefits!
Let's get back to the math.  56 million collecting social security benefits subtracted from 147,830,455 leaves 91,830,455 million more "Obama Voters" to account for.  Let's move on to another entitlement; Medicare.  According to the 2012 Annual Medicare Report, in 2011, Medicare covered 48.7 million people.  Again, let's go to the math; 91,830,455 million subtract 48,700,000 leaves 43,130,455 million more dependent on government, Obama voters still to account for.
Did Romney Actually Mean To Say 49%?
As of June 2011, 49% of Americans received some sort of financial support from the government according to the U.S. Census Bureau.  However, that number includes more than just people receiving anti-poverty assistance. It also includes Social Security and Medicare, the federal pension and health care programs for seniors, which as I mentioned earlier, are programs funded by workers' payroll taxes and aren't typically associated with concerns about dependency (AKA Obama voters to Romney). It also includes other benefits, such as worker's compensation or educational assistance for veterans.  Surely Romney wasn't including veterans in his accounting, was he?
The number of people who qualify for "means-tested" benefits, which require applicants to have incomes below a certain level, was actually 35.1%, according to the Census Bureau.  By comparison, when the already-slumping U.S. economy began its free-fall in September 2008 of which I happened to be a casualty of, 24% of U.S. households received means-tested benefits such as welfare or food stamps.  An April report from the nonpartisan Congressional Budget Office found that roughly one in seven Americans received food stamps, compared with about one out of 11 in 2007.
Holy Crap! He Really Did Do the Math
So let's go ahead and add roughly another 44 million to represent the number of Americans on food stamps and now our math is up to 148,700,000 free-loading Obama voting Americans dependent upon government, who believe that they are victims and believe government has a responsibility to care for them who will never vote for you, right Governor Romney?  Wait a minute.  Holy Crap; he really did do the math.  That's exactly 47%!  Take that Fact Checkers!
Only…there are some serious flaws with these numbers. But why let those get in the way of nailing a statistic like Romney did at his high dollar fundraising event?  Do you know anyone on welfare, collecting social security, or on Medicare who have voted Republican – EVER?  Do you know of anyone right now collecting those aforementioned government benefits that have proclaimed they are voting for Mitt Romney?  Of course you do… and so do I!
Ryan Also Part of the 47%
I'm only 47 years old so I don't collect any social security or Medicare Benefits…yet.  But my Parents do and I expect my children and I will as well.  But not if Romney and Ryan have anything to say about it.  Funny thing about the Governors running mate:  Ryan and his family would have been part of the 47% Romney referred to as well because at the age of 16, Ryan's father passed and he collected Social Security benefits until he was 18.  I would like to ask him what having that social program step in and help meant to him, his family, and to his future.  Unless of course, he really didn't need it.  You'll have to ask him.
That only leaves one qualifying item; when my business failed, I was not entitled to any unemployment benefits.  I was also paying almost $2000 dollars a month for my Blue Cross–Blue Shield health insurance policy to cover me, my two children, and Kelly who had a pre-existing condition, that I could no longer afford and at the end of a long and torturous road through financial hell, I had to accept both Medicaid and Food Stamps.  Judge me if you must, but as a person who was averaging paying $40,000 dollars plus a year to the Federal Government in taxes (Yes, I was formerly a 1 percenter) and has been paying into the system since I was 15 years old, I never felt entitled to these benefits as much as I was grateful they were available for me and my family in our time of need.  I never felt like a victim Mr. Romney, rather a casualty of the economic realities that befell me and millions more across these United States.
Mitt Was Right
So you see; I am truly part of that 47% Mitt Romney referenced at his fundraiser and far be it for me to make a liar out of him since he's so good at doing it for himself.  Yes Mitt; you were right!  I am not voting for you but not for any of the reasons you laid out on video to your high-level fundraising contributors, and everything to do with Mitt Romney the candidate!
What did you think when you first read or heard about Governor Romney's statements referencing the 47 percent and do you agree, or disagree with them?  Please lend your voice to the conversation and if you liked this post, please share it with your friends