Welcome To The Amateur Consumer Blog!

Who am I Writing For?
If you have gone through bankruptcy, foreclosure, and overall financial devastation, then this blog is written for you!
If you have ever had a car repossessed or worried about how you're going to pay your electric bill or rent this month, then this blog is written for you!
If you're on the credit and debt treadmill and never seem to be able to get off, then this blog and its future content are for you!
Let's start with this premise: you can't fix a problem with the same mindset that helped get you into it in the first place.  You see, there are reasons why your situation has become what it is.
When I first started this blog, I set out to prove that you could accelerate the process of credit and financial recovery.  But a funny thing happened along that journey; when I learned to ask myself the question "what's the purpose", I discovered there was a fundamental difference between the way I was previously living my life, the core values of who I was and the direction I wanted my life to go in!
How the Amateur Consumer Blog is Different
The Amateur Consumer isn't another blog about personal finance, financial literacy, couponing, or how to live your life on the cheap!   It's about helping you build a new framework and supplant that old behavior pattern that has helped you keep the scam going!
With this blog and its future content, I want to help you come to finally understand that consumerism is without a doubt, the most devastating psychological addiction that is sapping your financial resources, your well-being, and hope… if it hasn't already!  I'm here to help you say – Never Again!
All the principles, concepts, and insights taught in this blog are proven strategies I have been living for the last 3 years – not just theories!
The Problem That Needs to be Solved is You!
The first step to solving any problem is recognizing that there is a problem!  This blog is my attempt to call out that problem and guess what; it's YOU!  Or more to the point, it's your mindset and cognitive behavior! Financial literacy, as it's currently being taught by all the "mountain top screamers", does not begin to explain "irrational" behavior and therein lays the answer!
In fact, the inconvenient truth is that students who take a course in personal finance end up no more financially literate than those who don't!  Stop depending on the system and start learning how to fix you!
I mean; it's not your fault if the schools you attended, if at all, wanted to teach you financial functionality in place of comprehensive financial literacy because that's what the system dictates you should be taught.  But it is your fault if you crash and burn like I did, and do not learn how to free yourself from the mindset that helped take you down that path in the first place!
My Story

I am 47 years old and have lived in South Florida for the last 17 years with my beautiful family. But for the last 6 to 7 years, we have lived through what most people would call financial hell!  In fact, to most people, to friends and family, I looked like the least likely of people to ever run into credit and financial problems. I'd previously worked in the lending and credit industry for over 15 years and in 2001, I moved into mortgage lending. By 2002, I was making 6 figures.  By 2004, I owned my own mortgage company and was earning even better money.
We had a fabulous vacation home in the Mountains of Arizona where we spent 3 months of every year, a beautiful home in Sunny South Florida, great cars, and Kelly had just given birth to the new love of my life, my daughter Lauryn.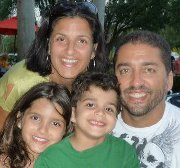 Difficult Times
The market crashed in 2005, but in 2007, it all came to a crashing halt for me and my family.  I tried like hell to hold on to what we had, at one point shelling out over $5,000 dollars a month in mortgage payments alone. I didn't have any credit problems yet, but I was bleeding money. I was trying to save my good credit and our standard of living.
In the end, it became too much for me to handle and I ended up staring directly at a $1.6 million dollar bankruptcy! I can't even begin to tell you how my family and I suffered. As you can imagine, even the best relationships do under a load like that. For many reasons, some my fault and others completely out of my control, my finances got screwed up and my credit, my family, and our lifestyle paid the price.
Only Human
I spent many sleepless nights wondering how in the hell I let this happen to me and my family. I was overrun with guilt.  Hell, I wish I could tell you that there weren't many nights where I thought my family would be better off without me, because there were!  I'm ashamed of it, I'm not proud of it, but I'm only human. And after getting past the shell shock of my own financial devastation, to put it bluntly; I had to get my head out of my ass and hustle to keep my family afloat. I can tell you that by the grace of God and the help of many great friends and family, we managed.
But…It Was Entirely My Fault
Now I know I said some situations were out of my control that led to my financial crash and burn, but the truth of the matter is; that's Horseshit!  It was all under my control and has always been under my control; I just didn't know it at the time!
As financially literate as I thought I was, I discovered there were 3 pillars of financial life building skills I was sorely lacking and that were never taught to me.  Unfortunately, I had to learn them the hard way!
Lessons Learned
Here's what I have learned; the reason why the needle hasn't moved very much over the last two decades as it pertains to financial literacy is because what the system is teaching is Financial Functionality!
There are numerous non-profits, banks, and politicians all screaming from the mountain tops that financial literacy is important.  But if it's so important, why isn't it improving?
An Amateur Consumer
I'm College educated with over 20 years of credit and financial work experience under my belt. But that didn't stop me from crashing and burning – just like it hasn't stopped doctors, lawyers, clergy, or any other profession you can think of.  In my experiences, I have seen just about every profession, business owner, or hourly and salaried worker go through some type of credit and financial hardship; but why do you think that is?
Without a doubt, if you don't know and aren't applying the 3 missing pillars of financial life building skills that I discovered and were cemented in my very own crash and burn – and then recovery, regardless of your level of financial literacy, you'll remain exactly what the system wants you to be; an amateur consumer! But Never Again!
Let's Connect
Subscribe to The Amateur Consumer Blog and get revolutionary and life changing content before anyone else does!! Connect with me on Facebook, follow me on Twitter, or add me to your circle on Google + and let's take this journey to liberation together that ends with you saying: Never Again!

Disclaimer
Please keep in mind that I am in no way, shape, or form claiming to be the World's foremost authority or expert on credit and finances.  But I am claiming to have learned that the person who led me to my personal financial crash and burn was me! Even with 20 plus years of experiences and knowledge in dealing with credit and financing, I couldn't stop my own trajectory downward; but Never Again!  Everything I know and will teach in this blog and with future content comes from finally discovering that I control my economic future and the outcomes that result from my decision making. There are 2 things I will pass on to you with my writing and content; my personal experience of surviving financial devastation and the knowledge gained from it!  But understand this; without applying anything you learn from me, your consciousness will be for naught! Before taking any of my advice, please read my blog post titled "Who Can You Trust When Taking Credit and Financial Advice."