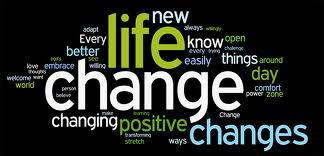 It's been 3 and half months since I started the Amateur Consumer Blog and created the Better Credit Blueprint video series.   But it's been 2 year since I started this long and arduous road back from credit and financial hell!  As I have shared my stories and experiences of being pushed off the financial grid and being treated as "less than", I discovered from those very experiences that there are 3 steps you must take in order to recover from credit and financial hell!
Step #1: Change Your Mindset
If you want to change your life, you have to start by changing your mindset first because your mind will decide what type of changes you can, and will make in your life. As I said in my very first blog post; you have to come to the realization that "it is what it is" and there is nothing you can do about the road behind you.  But there is definitely something you can do about the road ahead of you and that's where you need to understand that you can't change your circumstances with the same mindset that helped get you into them in the first place.  Truly, it will become what you make it!
One of the best blog posts I have read recently was from the Marc and Angel Hack Life Blog titled "10 Habits You Must Quit to Be Happy".  Let me share habit #6 from that list:  Quit talking down to yourself.
Nothing will bring you down quicker than berating yourself.  The mind is a superb instrument if used right, but when used incorrectly, it becomes very destructive.  Be aware of your mental self-talk.  We all talk silently to ourselves in our heads, but we aren't always conscious of what we're saying or how it's affecting us.
As Henry Ford once stated, "Whether you think you can, or you think you can't, you're right."  One of the major causes of why we fail is due to self-doubt and negative self-talk.  The way to overcome negative thoughts and destructive emotions is to develop opposing, positive emotions that are stronger and more powerful.  Listen to your self-talk and replace negative thoughts with positive ones, over time you will change the trajectory of your life.
And after all, isn't this what you're looking to do?  Change the trajectory of your life?  Start by changing your mindset!
Step #2: Secure Your Finances
I'd love to say this is the hardest of the 3 steps you must take but fact is; without taking the first step, step number two may not matter anyway!  I was a loan officer and mortgage broker for the better part of the last decade but after my bankruptcy, foreclosure, and overall financial meltdown, my credit went to hell with it and so did my mortgage career thanks to new credit requirements with the Nationwide Mortgage Licensing System & Registry.  Truth be told; I was burned out and needed a new start anyway so I wasn't entirely heartbroken about it!
For me, that new start really became a "restart".  Since I had performed over 500 plus real estate transactions over the last decade, I went out and obtained my State of Florida Realtors License in 2011 to take advantage of that experience. But it took me until now, September 2012, to find my stride as well as a broker who knew my story of success and failure, collapse and reinvention, and wasn't judging me because of it!  We all need a helping hand back up and honestly, I had to re-find my inner entrepreneur as well and learn how to "make money" again.  Which brings me back to the Marc and Angel Hack Life Blog and habit #7 you must quit to be happy; Quit running from your problems and fears.
Trust me, if everyone threw their problems in a pile for you to see, you would grab yours back.  Tackle your problems and fears swiftly, don't run away from them.  The best solution is to face them head on no matter how powerful they may seem.
Fears, in particularly, stop you from taking chances and making decisions.  They keep you confined to just the small space where you feel completely comfortable.  But your life's story is simply the culmination of many small, unique experiences, many of which require you to stretch your comfort zone.  Letting your fears and worries control you is not 'living,' it's merely existing.
My fears and worries were definitely stopping me from taking chances!  I had forgotten that by definition, being an entrepreneur is being a "risk taker" and I was no longer willing to stretch my comfort zone.  I finally realized it was keeping me from taking control of my finances and I needed to stop 'existing' and start 'living'  once again!  More importantly, my family was depending on it!  You must regain control of your earnings if you are to regain control of your finances as the second step to recovering from credit and financial hell.
Step #3: Accelerate the Process of Credit Recovery  
You may think you have to wait 7, 10, or more years for your credit to recover after bankruptcy, foreclosure, and financial hell; but you'd be wrong!  In fact, I'm going to tell you something you never hear any personal finance or credit guru tell you; your credit report will be even more screwed up because of it!  That's right! And I'm talking from experience.  Don't believe me?  Then click on the Better Credit Blueprint Tab and take my free video course where I show you exactly how chock-full of errors my credit report was!
Let's be clear here:  I'm not talking about removing my bankruptcy, foreclosure, or tax liens from my credit.  I'm talking about making sure everything pertaining to those negative credit events on my credit report were being reported with 100% accuracy.  I've been in credit and lending for over 20 plus years and it absolutely makes a difference while rebuilding your credit after surviving credit and financial hell if liens are being reported as "paid" and show no monies due.  After a $1.6 million dollar bankruptcy, I also found many of my accounts included in the bankruptcy not reporting a "zero" balance or discharged in bankruptcy as they should have.
I found accounts included in the bankruptcy showing as active and currently delinquent with "past due" balances.  Hell, I even found accounts that weren't even mine!  Unfortunately, if you have gone through credit and financial hell like I have, you may think you can do nothing about your credit and assume creditors, collectors, and the credit bureaus have reported everything accurately.  And again… you'd be wrong! In order to correct those errors and inaccuracies from your credit report, you need to learn how to perform a Credit Audit & Verification of your credit report which I show you how to do, step by step, in my free Better Credit Blueprint Video Series.
Let me share with you one more habit I had to stop doing from the  Marc and Angel Hack Life Blog – habit #9; Quit trying to be someone you're not.
One of the greatest challenges in life is being yourself in a world that's trying to make you like everyone else.  Someone will always be prettier, someone will always be smarter, someone will always be younger,  but they will never be you.  Don't change so people will like you.  Be yourself and the right people will love you, and you'll love yourself more too.
By taking these 3 steps, you will begin the process of recovering from credit and financial hell.  By being yourself,  the "right" people will love you regardless of what you have been through and I"m talking from experience!  I have also found that I love myself a whole lot more too!
Are you recovering from credit and financial hell?  If so, did you take any of these same steps I did to get yourself pointed back in the right direction?  Were there other steps you took that helped you change your circumstances?  Please share your stories and experiences here with me  and if you haven't already done so, visit the Mark and Angel Hack Life Blog and read the entire"10 Habits You Must Quit to Be Happy" post.  You'll be glad you did (even if it does take you away from my blog. Just make sure to come back :))