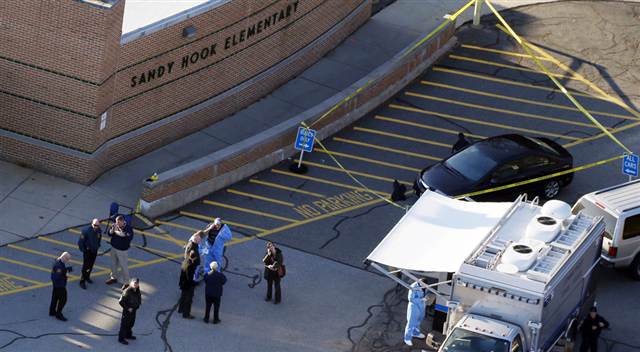 (Picture taken by Julio Cortez / AP)
As you can tell, this post has nothing to do with credit and debt, consumerism, or recovering from financial hell and everything to do with how angry I am at the continued stupidity of our politicians and so-called leaders regarding gun control.
Today, as a nation, we mourn the innocent deaths and killing of 20 small children and six adults in the nation's second-worst school shooting ever at Sandy Hook Elementary School in Newtown Connecticut.  Today as Americans, we must all ponder how will those parents ever recover from the senseless murders of their and our nation's greatest treasure, children? How do they move forward during the holidays when every parent's heart should be filled with warmth at the look of happiness on their children's faces as they open their presents?
Our Country's True Epidemic:  A Lack of Leadership
As I watch the news, I just heard the Presidents White House Press Secretary, Jay Carney say, "Today is not the day to discuss gun laws".  Really; after 20 little bright lights full of spirit have been snuffed out forever?   If not today, then when the hell will it be the day?  What we have here is a true nationwide epidemic; a lack of leadership!
Mayor Bloomberg, the Republican Mayor of New York City and Co-Chair of Mayor's Against Illegal Guns just put out a response that I believe shows both leadership and the political will needed to address the issue of gun control;
"With all the carnage from gun violence in our country, it's still almost impossible to believe that a mass shooting in a kindergarten class could happen.  It has come to that. Not even kindergarteners learning their ABCs are safe.  We heard after Columbine that it was too soon to talk about gun laws. We heard it after Virginia Tech – After Tucson and Aurora and Oak Creek.  And now we are hearing it again. For every day we wait, 34 more people are murdered with guns. Today, many of them were five-year olds."
Dead Not the Only Victims
So what does anyone tell those children who survived, who just had their lives fast forwarded 20 years, what just happened, because they will most certainly ask!   I just saw a little boy on T.V. who described being told by whoever was herding his class out to shut their eyes as they ran down the hall.  How do you undo that memory?  How do you undo this episode to our nations psyche; to those parents, teachers, community members, law enforcement and first responders who just experienced this in person?  The answer is; you don't!
What we have to do now is stand up to the ideologues and special interests who want everything to remain status quo.  Stand up against the NRA, against ALEC, against everyone suppressing common sense; against "sound and prudent" judgment!
Common Sense Isn't So Common
Common sense is defined by Merriam-Webster as, "sound and prudent judgment based on a simple perception of the situation or facts."  The Cambridge Dictionary defines it as, "the basic level of practical knowledge and judgment that we all need to help us live in a reasonable and safe way".  So I ask you to apply those definitions to these actions by our cowardice and spineless politicians across this country:
1. The Michigan Senate today rejected an attempt to eliminate a law requiring people who buy handguns from unlicensed sellers to first pass a background check, voting instead to preserve every essential element of a system mayors and police called a successful crime-fighting tool.
Doesn't pass the "sound and prudent" test nor does their judgment help Michiganders live in a reasonable and safe way, does it?
2.  In order to begin driving, you need a learners permit.  When you become licensed, you can now drive a car.  But in Arizona, you don't need either to purchase or own a gun

Doesn't pass the "sound and prudent" test nor does their judgment help Arizonians live in a reasonable and safe way, does it?
3.  In January of 2011 Representative Gabrielle Giffords, D-Ariz., was severely injured in a gun attack, yet in the same year, our greatest "do nothing" Congress in history found it necessary to pass a "pro-gun" bill that would let those with valid state permits to carry a concealed firearm in almost every other state in the country.  Hell yes; now that's leadership!   That's our government using "sound and prudent" judgement to help us live in a reasonable and safe way, right?
4.  While Governor Rick Snyder is busy shoving "union busting" reform no one asked for in Michigan (unless you count ALEC or the KOCH Brothers),  their state house passed a bill allowing concealed weapons in schools, day care centers, stadiums, and churches.
If you think this legislation is based on "sound and prudent" judgement that helps Michiganders live in a reasonable and safe way, please leave your comment below.  I want to hear you defend this! 
The Most Armed Country In the World
According to the Graduate Institute of International Studies in Geneva, The United States is far and away the most heavily armed country in the world.  The United States has 90 guns for every 100 citizens.  And according to the Small Arms Survey 2007 by the Geneva-based Graduate Institute of International Studies, U.S. citizens own 270 million of the world's 875 million known firearms.
So how can it be that this country also has one of the highest rates of homicides by guns of any country in the world? In 2005, there were 10,100 gun-related homicides, 75% of which were committed with handguns, and since the murders in Tucson where Congresswoman Gifford was almost murdered, Bloomberg News reported that there was a run on Glocks in Arizona.  Yes, that Glock; the same weapon that killed six people including a Federal judge and a nine-year-old child – no permit or license needed!
Imagine That Was Your Child Shot and Killed Today
(Adrees Latif / Reuters)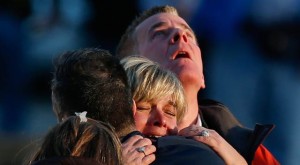 Imagine today, being at work, getting out of the gym, or being home and getting that phone call or that knock at the door with someone telling you there has been an incident and they regret to inform you – your child was killed today!  Imagine coming home and turning on the T.V. and seeing your child's school being evacuated because there were mass murders?
No America; imagine no more because today every parent's nightmare was realized and until we push our leaders and politicians to have the will and strength to use common sense when it comes to gun control, this scene will continue to play itself out across this great land of ours.  Instead of hoping and praying it doesn't happen to you, do something about it!
Get off your apathetic asses, get involved in your child's school, talk to administrators about safety, and know who can come and go.  Call your politicians and let them know your mad as hell and you're not going to accept that guns should be an everyday part of your child's life, the fabric of our country, and that a lot of this tragedy that happened today, can at least be minimized by using "sound and prudent" judgment that will truly help us all live in a reasonable and safe way!
Start the conversation amongst your friends and family by sharing this special commentary with them.  I believe it is an important conversation we all need to have as a country!